What will they say about you when you're gone? Have you ever thought about it? I have to admit, it's not something I spend a lot of brain power on (limited resources must be allocated judiciously!) but my all time favorite author died recently and I read some of the wonderful things her fans have been posting to her web page. It's really made me think.
Maeve Binchy was a marvelous story teller – that's really all you need to know. She had the ability to wind different threads of a story together in such a way that you couldn't imagine how they would all fit in with each other, but by the end of the story, they were woven together beautifully and perfectly. She wasn't a romance writer, but she wrote about the romance of everyday life in today's Ireland. Her characters dealt with recession and economic hard times, just like you and I have to do. They also dealt with alcoholism and poor relationship choices, but they always triumphed in the end – Maeve never wanted to see the bad guy win. And she talked about life in Dublin, Ireland – on Grafton Street, by the River Liffey, on St. Stephens Green, and the piers of Dun Laoghaire – in such a way that I wanted to jump on a plane and go there immediately . . . and felt as though I would know these places the minute I saw them, based on her fabulous descriptions.
Grafton Street, Dublin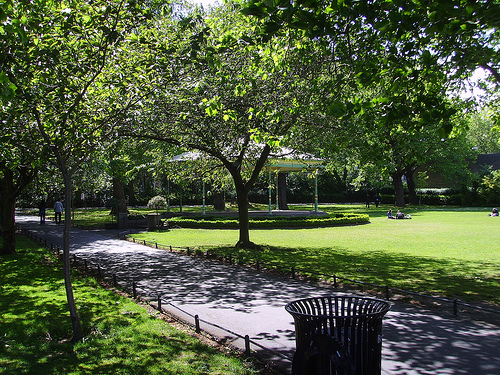 St. Stephen's Green
River Liffey
Dun Laoghaire
Now, it's over. On July 30, 2012, this lovely writer, Maeve Binchy, passed away. She was only 72, the same age as my mother – but had some health problems that brought an end to the magic. I can't say hers are the only books I purchase or the only ones I purchase in hardback (my bookcase shelves would point out that lie) but hers are the ones I pick up and read over and over again . . . and wait impatiently for a new book to come out every year or so. And it breaks my heart to know that I've read the last new book from Maeve Binchy. Ever.
As a writer, I have to think – will anyone ever feel this way about me? About my writing? One day, in the future (hopefully far in the future), will someone, an aspiring writer or commuter on a train or student looking to pass the time, feel a pang of regret or sadness that Lyda Ann isn't going to be sharing her "unique writing style and take on the world" with them any longer? I can but hope.
Christine Green, Maeve Binchy's literary agent, wrote a beautiful piece on her relationship with Maeve and the outpouring of affection that has taken place since Maeve's passing. For those of you who know Maeve's writing, this will come as no surprise. For those of you who don't, I hope this has inspired you to pick up one of her books. I would start with Evening Class, but you can start wherever you like. With Maeve Binchy, you can't go wrong. And one of these days, I'll see you in Dublin!
Christine Green has been Maeve Binchy's literary agent for 32 years since her first novel, Light a Penny Candle. A few days after Maeve's untimely passing on 30 July she pauses to reflect.
'Dear Maeve Binchy
I would like to tell you that I am a tall fan of you. I almost have read everyone of your books and am also at this. I find your way as you write simply rushes about and your books have already often robbed me of the sleep because I simply couldn't stop to read. I would want still to read much from you it makes weird joy to me. The stories are so actual as if you would happen in this world someplace every day. I thank you that I have discovered a passion (reading) by your books. I have infected my family by my enthusiasm in the meantime...'
'I hope that Ms. Binchy knows how special the work that she does is to many people and how it affects our lives. I always go through a period of withdrawal after putting down her books as I miss knowing about what is going on in the lives of the characters.'
'Would it be possible to get the recipe for the shrimp wrapped in phyllo that Cathy made in Scarlet Feather?'
'Maeve saved my life.'
'no inquiry really, just wanted to say that ms. binchys books have kept me sane and pleasant through a very long illness...'
They came in every day, the letters and emails from her readers all over the world. The numbers are there for all to see: forty million-plus copies, thirty-odd languages, but the reality behind the statistics is that Maeve touched the hearts of readers all over the world.
Her stories are positive, rather than romantic: a woman might not get the man she loved, sometimes a marriage ended badly. But her characters always grew and learnt from their experiences. As she herself said, 'I don't have ugly ducklings turning into swans in my stories. I have ugly ducklings turning into confident ducks.'
She was something of a swan herself: she worked immensely hard at making it all look effortless. In the early years, she was running a full-time job as correspondent for the Irish Times, writing memorable columns on everything from the Herald of Free Enterprise disaster to royal weddings. She would get up at 5.30 in the morning, work on a novel for three hours and then head off to the office. Later, it got a bit easier: she worked in a lovely sunny office, side by side with her beloved husband, Gordon Snell, in their house in Dalkey, County Dublin; there she brought the discipline to bear that had served her well first as a teacher then as a journalist.
Each novel, each project had its own file, notebooks, timelines, headings, lists. Inspiration came from many sources: 'I often look at people's faces in the street,' she said. 'There are stories written there. Is that man unfaithful? Does that woman have a secret? Nowhere is dull, nobody is boring...' She was, by her own admission, a rotten typist; whole sections would arrive in the form of anagrams: She stared at him in sibilie... I'll never love a sanejuter...* ; and on occasions even she was unable to decipher what she'd written.
She enjoyed the touring and promoting; she'd say that after months staring at a typewriter and wondering whether the book was any good, it was great to meet readers who stood in line, sometimes for hours, to tell her how much they liked her stories. And after hours of signing books, she gave the last people in the queue more attention not less, because they had been waiting longer.
Then the arthritis which had plagued her for years and was alleviated only temporarily by a hip replacement, got to be too much. She was terrific at hiding it – her last email to me was signed 'your hypochondriac friend' – and worked hard not to let the pain show. She said she felt fine when we knew she felt terrible; she said she was better when she was clearly worse. It worked: she fooled many of us into thinking she was fine – apart from the fact that for some reason she was bent double and walking with two sticks. She had strategies to help her cope: she'd get to places much earlier than anyone else because she hated to be seen limping in, whey-faced with pain. We knew to arrange a kitchen stool or a bar-stool for her to sit on: it was the right height. She'd ask people to come to her house rather than visit theirs. Eventually, the strain was too great. So she retired.
Or rather, she didn't retire. Not even for a second.
She had to stop all the touring: the walks had got too long, the trains too crowded, the airport gates too far away; but the writing continued at the same rate, without missing a beat, the novels, the short stories, the articles.
She was happiest surrounded by her family and her friends, some of whom she'd known since childhood. She was very lucky in her husband, writer Gordon Snell, and they were each hugely supportive of the other throughout their very happy marriage. She was fiercely loyal and that loyalty extended to her publishers: the company names may have changed many times, but Susan Lamb, Dallas Manderson and her American editor Carole Baron had been by her side for more than three decades, along with her overseas publishers who had themselves become dear friends.
Above all, she was funny, warm, hospitable and delightful company. My abiding memory will always be of her at a table with good friends, good food, good wine and fabulous, noisy, lively, entertaining conversation. The British, she used to say, liked to invite four talkers and four listeners for dinner. In Ireland, that didn't work – it was impossible to find four listeners.
Asked how she wanted to be remembered, she said this:
I'd like people to think I was a good friend and a reasonable story-teller and to know that thanks to all the great people, family and friends that I met, I was very, very happy when I was here.
Good night, Maeve, sleep well. Thanks for all the stories – you were indeed a reasonable story-teller.